Thursday, 27 November 2008 15:53
African Opal
Yellow African Opal
4x4mm Cubes = 8.00
Round: 4mm = 5.00, 6mm = 7.00, 8mm = 9.00, 10mm = 12.00
8x12mm Leaves = 10.00
13x18mm Nuggets = SOLD OUT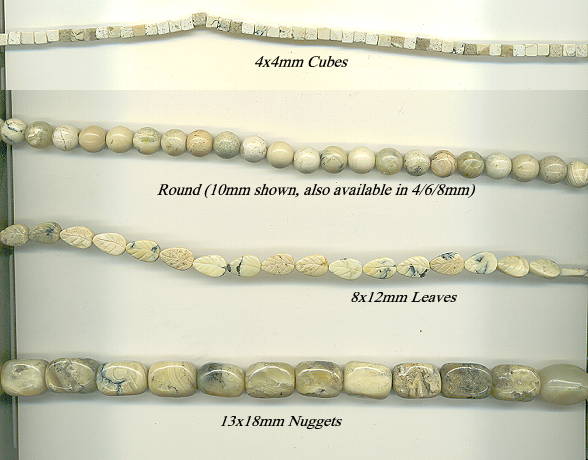 Red African Opal
Round: 4mm = 8.00, 6mm = 9.00, 8mm = 11.00, 10mm = 15.00
8mm Hi-Drilled Flat Round = 22.00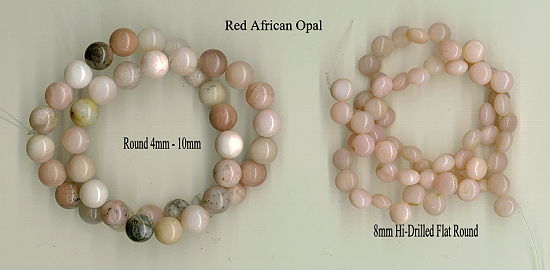 Peruvian Pink Opal
Gorgeous, high quality
Prices are per strand.
Shapes available are pictured.
Click on the picture to see a closeup
4x6mm Rice - SOLD OUT
5mm Disc Heishi = $18.00
5mm Donut Heishi = $18.00
4mm Round = $15.00
6mm Round = $20.00
8mm Round = $40.00
History of Opal
Opal has been treasured throughout history around the world. Archaeologist Louis Leakey found six thousand-year-old opal artifacts in a cave in Kenya. Roman historian Pliny described the magnificence of opal as the combination of the beauty of all other gems. Opal was much loved and valued highly by the Romans, who called it opalus. In Greek mythology opal is said to have formed out of the tears of joy Zeus cried after his victory over the Titans. The Aztecs mined opal in South and Central America. Opal was also treasured in the middle Ages and was called ophthalmios, or eye stone, due to a widespread belief that it was beneficial to eyesight.

Blonde women wore opal necklaces to protect their hair from losing its colour. An opal called the orphanus was set in the crown of the Holy Roman Emperor. This opal was said to protect the regal honor. Opals are also set in the crown jewels of France. Napoleon gave Josephine a beautiful opal with brilliant red flashes called "The burning of Troy", making her his Helen. Shakespeare found in the opal a symbol of shifting inconstancy, likening play of color to play of mind in one of the most apt uses of gemstone symbolism in literature. In "Twelfth Night", he writes: "Now the melancholy God protect thee, and the tailor make thy garments of changeable taffeta, for thy mind is opal".

In India, opal is thought to be the Goddess of rainbows turned to stone when fleeing from the romantic advances of the other Gods. Queen Victoria loved opals and often gave them as wedding presents. Ancient opal came from the mines near Cervenica, Hungary, in what is now Eastern Slovakia, where hundreds of men mined the stone.
Last Updated on Sunday, 04 January 2009 22:18
---
Trash City
P.O. Box 13653, Scottsdale,
AZ 85267, USA
Tel: 602-399-9500
Toll Free Fax:  866-234-5324
E-mail: info@trashcity.com
Copyright © 2009 Trash City. All Rights Reserved.