Trash City Gift Certificates
The perfect gift for that crafty designer in your life!  You don't really know what they want from a bead shop, but they certainly do!
Our gift certificates are the perfect way to say "Go! Be Beady! Make me something great!!"
Certificates are available in different denominations from $25 - $100 in as many quantity as you like. 
We will print out a lovely certificate and mail them to you so you can present them to your favorite jewelry designer.
Great for Birthdays, Anniversaries, Holidays, Valentine's Day, ANYTIME!
The PERFECT gift for that special someone who LOVES beads!!
A Trash City Beads gift card!

CHRISTMAS SPECIAL! $100 Gift Card for only $50!!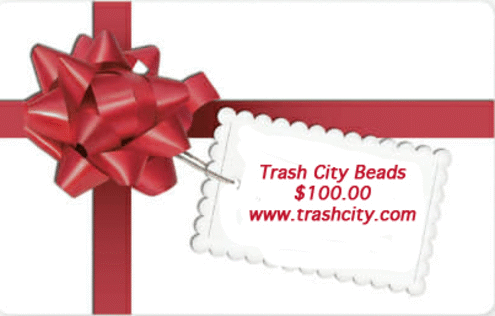 Special gift for them at a very special price for you!
Email us for details: This e-mail address is being protected from spambots. You need JavaScript enabled to view it
Or call to order direct. There's still time!
602-399-9500 (Ask for Chris)
---
Trash City
P.O. Box 13653, Scottsdale,
AZ 85267, USA
Tel: 602-399-9500
Toll Free Fax:  866-234-5324
E-mail: info@trashcity.com
Copyright © 2009 Trash City. All Rights Reserved.