Friday, 28 November 2008 20:34
What should we call these?
Silicone Beads? Spikeys? Punk Beads?
We know!!!
SPIKEY-MON... gotta catch'em all!!
They are made of rubber, and feel like koosh balls...
An amazing new texture for you to work with.
Drilled through, almost weightless!
Available in three sizes of rounds, plus tubes.
Available colors
First is "body" color, second is "highlights"
Rainbow, Pink/White, Pink/Yellow, Orange/Yellow, Black/White
Rasta, Blue/White, Blue/Pink [SOLD OUT], Blue/Green, Orange/Pink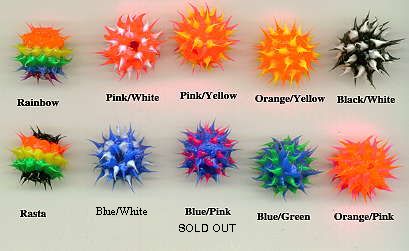 Available shapes + sizes
6mm Round = 20 cents each
8mm Round = 30 cents each
10mm Round = 40 cents each
Special SALE:  Assorted Bag of colors we call "seconds" - not colors we stock,
in a variety of sizes Bag of 50 pieces:  $20.00
6x15mm Tubes = 50 cents each
[available in all colors]
Last Updated on Wednesday, 01 April 2020 23:33
---
Trash City
P.O. Box 13653, Scottsdale,
AZ 85267, USA
Tel: 602-399-9500
Toll Free Fax:  866-234-5324
E-mail: info@trashcity.com
Copyright © 2009 Trash City. All Rights Reserved.