Point Pendants and Pendulums
Friday, 28 November 2008 18:19
Large Gemstone Point Pendants
1" Long
Made of genuine stones and Sterling Silver bails with collars
Can be used individually, or buy a pair and make earrings!
Sizes are approximately 1" long
$3.50 each.
Available in Green Aventurine, Clear Quartz, Amethyst and Rose Quartz
[Quarter not included. It's there just for scale... :-)]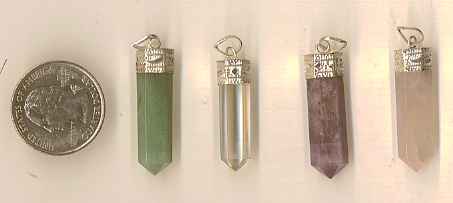 Gemstone Pendulums with Chain
Agate 9" Pendulum. Reveal the answers with this pendulum.
Pendulums are in various agates. Fun times. Holding ball and chain is included.
No choices here, sorry.  $4.50 each
Please note that the picture show examples of the types of pendulums available
and not the exact piece you'll receive.
The piece we choose for you will be similar and of the same high quality.
We choose carefully, in order to find the right one for you.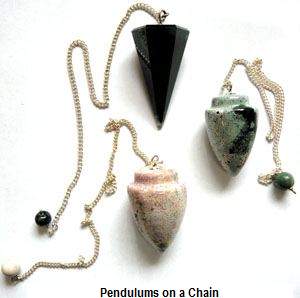 Agates, main chakra - heart. Agates are power stones that help stimulate your analytical abilities.
Good for all aspects of obtaining, sharing, and spending money.
Using a pendulum is a simple way to access Divine guidance, and they are very accurate... if used correctly.
The pendulum is a tool that is used to communicate with spirit via your higher self or your guides,
and this tool can be used to aid you to make decisions about healing.
Last Updated on Sunday, 04 November 2012 21:05
---
Trash City
P.O. Box 13653, Scottsdale,
AZ 85267, USA
Tel: 602-399-9500
Toll Free Fax:  866-234-5324
E-mail: info@trashcity.com
Copyright © 2009 Trash City. All Rights Reserved.