Wednesday, 28 May 2008 19:51
Carnelian comes in many shapes and shades. There are very light varieties, an amber-like, deep orange color and the darkest burnt orange color. Depending on tastes and designs, these beads are very much in demand, especially in shapes which are VERY HARD TO ACQUIRE. Naturally, we have amassed a small stash to share with a few of our closest friends..
Here is the current list of what we have in stock: we have pics of some items for now (it's on our To-Do list!), but if there's anything that especially appeals, let us know and we'll see if it can fall on the scanner... :-)
Carnelian 35mm Large Flat Discs
GORGEOUS AND RARE!
35-40mm Drilled Through
12 Beads per strand
$35.00
Click on the picture to see close-up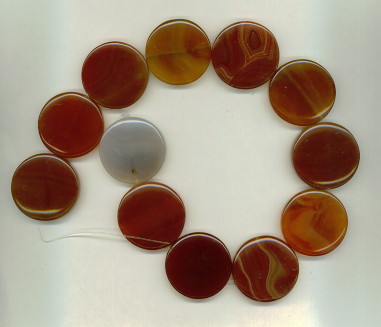 #1196 Light Carnelian Faceted Round
4mm=$10.00, 6mm=$12.00, 8mm=$14.00
#1197 Dark Carnelian Faceted Round
4mm=$18.00, 6mm=$20.00, 8mm=$23.00


#1528 4mm Carnelian Smooth Rondelles
$15.00 per strand
Over 100 beads


No pictures available yet on these: prices are per 16" strand.
Round
4mm Very Dark ($8)
6mm Very Dark ($10)
8mm Very Dark ($16)
12mm Orange ($12)
Last Updated on Monday, 29 December 2008 22:08
---
Trash City
P.O. Box 13653, Scottsdale,
AZ 85267, USA
Tel: 602-399-9500
Toll Free Fax:  866-234-5324
E-mail: info@trashcity.com
Copyright © 2009 Trash City. All Rights Reserved.