Thursday, 22 May 2008 01:39
Note: we are down to VERY limited stock in this, so this page is now mostly for reference.
Swirling pinks, clear and little fibers of gold and silver make up Astorite. The color ranges from pink, red, clear, white, dark with translucent to opaque areas, showing little flecks of gold and silver. This stone, its contradictions, colors, minerals and metallics, from composition to formation, is unique and one of a kind.
Astorite is basically rhodonite, but in addition also contains - pardon us if we get rock-geeky here! - rhodochrosite, quartz (in the form of pseudomorphs, and chalcedony, after quartz), and ore gangue silicified (complex sulfide ore with native metallics of gold, silver, copper, lead and chalcopyrite). This combination is what gives it a special look - as far as we know, astorite is only found in a very remote area of Colorado in a mine located 12,000 feet above sea level in an avalanche chute. The mineral and mine are named after the previous mine owner JOHN JACOB ASTOR IV, once considered the wealthiest man in America.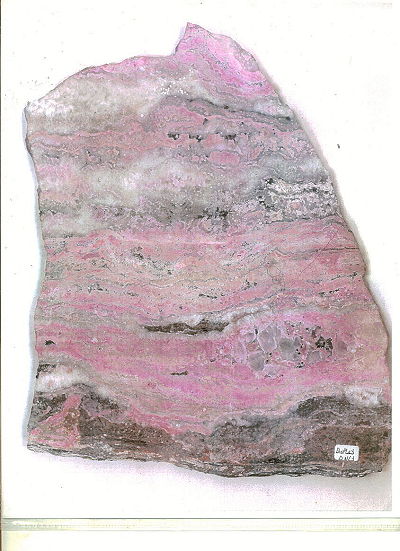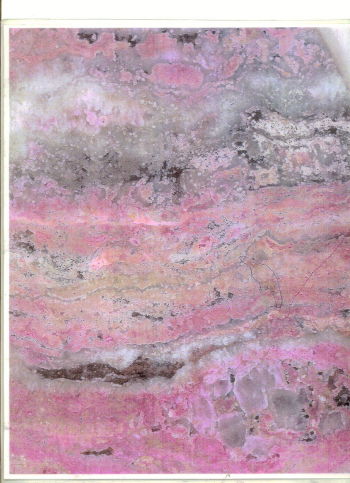 Click on the picture to see a close-up
Astorite
Priced PER INDIVIDUAL BEAD
Each bead is drilled through
Available in:
8mm Round - $2.25 per bead
6mm Rondelle 75 cents per bead
8mm Rondelle - $1.15 per bead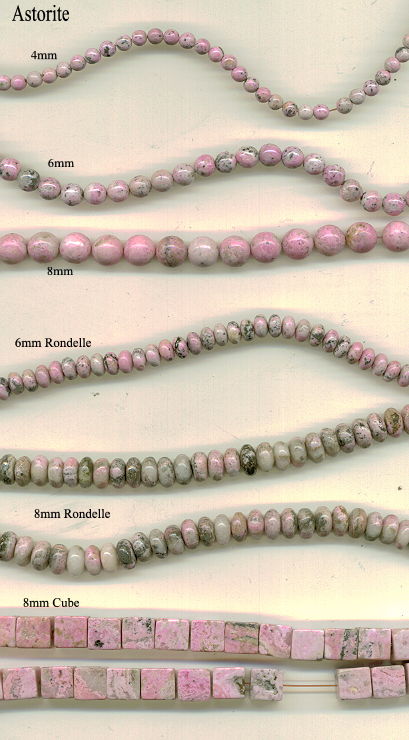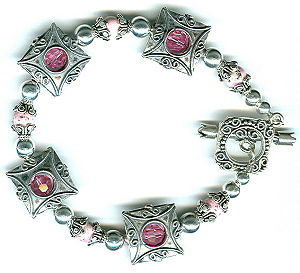 Becky Anders (email: This e-mail address is being protected from spambots. You need JavaScript enabled to view it ) used our rare astorite as the highlight in this lovely bracelet
- click on the picture to see the detail.
More on Astorite, Sir John Astor and their history
The mineral and mine are named after the previous mine owner JOHN JACOB ASTOR IV who was once considered the wealthiest man in America. Colonel John Jacob Astor IV was born in Rhinebeck, New York on July 13th, 1864 the son of William Astor and great-grandson of John Jacob Astor the fur trader. Astor was educated at St. Paul's School, Concord and later went to Harvard. After a period of travelling abroad (1888-91) he returned to the United States to manage the family fortune. He had homes at 840 Fifth Avenue, New York and at Ferncliff, Rhinebeck, New York. In 1894 Astor wrote a semi-scientific novel "A Journey in Other Worlds". During his life he also developed several mechanical devices including a bicycle brake (1898), helped to develop the turbine engine, and invented a pneumatic road-improver.
In 1897 Astor built the Astoria Hotel, New York adjoining the Waldorf Hotel which had been built by William Waldorf Astor, his cousin. The new complex became known as the Waldorf-Astoria. Astor's real-estate interest included two other hotels, the Hotel St. Regis (1905) and the Knickerbocker (1906). He became Colonel-staff to General Levi P. Morton and in 1898, at the time of the Spanish-American War, was commissioned as a lieutenant colonel in the US volunteers. He placed his yacht Nourmahal at the disposal of the U.S. government and equipped a mountain battery of artillery for use against the Spanish.
Astor's Life and Death
On 1 May 1891 Astor was married to Ava, daughter of Edward Shippen Willing of Philadelphia. Together they had a son and one daughter. However, in 1909 Astor divorced Ava and, two years later, married eighteen-year-old Madeleine Force (who was a year younger than his son Vincent- pictured here with John on the Titanic). Public opinion was divided concerning the respectability of Astor's actions, and the newlyweds decided to winter abroad in order to let the gossip die down at home. Mr and Mrs Astor travelled to Egypt and Paris and, in the spring of 1912, decided to return to America as First Class passengers on board the brand new Titanic.
They boarded the Titanic at Cherbourg with Colonel Astor's manservant Mr Victor Robbins, Mrs Astor's maid Miss Rosalie Bidois, Miss Caroline Louise Endres Mrs Astor's private nurse and their pet Airedale Kitty. Their ticket was PC 17757 which cost £224 10s 6d. They occupied cabins C-62-64. After the accident Astor left his suite to investigate, he quickly returned and reported to his wife that the ship had struck ice. He reassured her that the damage did not appear serious. Later, when the first class passengers had begun to congregate on the boat deck, the Astors sat on the mechanical horses in the gymnasium. They wore their lifebelts but Colonel Astor had found another and cut the lining with a pen knife to show his wife what it was made of.
Even as the boats were loaded Astor appeared unperturbed, he ridiculed the idea of trading the solid decks of the Titanic for a small lifeboat 'we are safer here than in that little boat'. He had changed his mind by 1:45 when Second Officer Charles Lightoller arrived on A deck to finish loading Lifeboat 4. Astor helped his wife to climb through the windows of the enclosed promenade and then asked if he might join her, being as she was in 'a delicate condition'. Lightoller told him that no men could enter until all the women had been loaded. Astor stood back and just asked Lightoller which boat it was. After boat 4 was lowered at 1:55 Astor stood alone while others tried to free the remaining collapsible boats. Astor's body was recovered on Monday April 22 by the cable ship McKay-Bennett (#124):
Information provided by: Encyclopedia Titanica: First Class Passenger: Colonel John Jacob Astor IV [http://www.encyclopedia-titanica.org/bio/p/1st/astor_jj.shtml] Accessed Sun Apr 14 19:09:09 2002.
The wealthiest man in the United States at his death, his estimated value in todays dollars would be approximately $1.3 Billion. He left a fortune that has continued to make the family name prominent. Part of his money went to found the Astor Library (see New York Public Library).
The Astor Mine in the San Juan Mountains of Colorado
Colonel Astor was a well traveled man and knew quality and value. So it's not surprising that he found and purchased the Astor Mine in the San Juan Mountains of southwestern Colorado. The mine was closed when John Jacob Astor IV went down in 1912 with the Titanic in the Atlantic. The portal was sealed upon John's death not to be reopened until 2001. Today this mine produces the finest unique ore body in the world, now known as "astorite".
Last Updated on Saturday, 06 December 2008 18:14
---
Trash City
P.O. Box 13653, Scottsdale,
AZ 85267, USA
Tel: 602-399-9500
Toll Free Fax:  866-234-5324
E-mail: info@trashcity.com
Copyright © 2009 Trash City. All Rights Reserved.