Gemstone Free-form Pendants
Tuesday, 30 September 2008 01:29
Here's a sample of what you can do with these
[Click picture to see detail]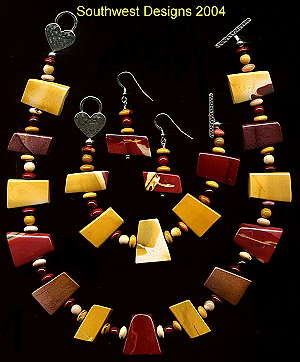 Says customer Leslie Lintner who made it, "I received my beads today and I love the hickorite...take a look at this...I made all three pieces at really serviceable lengths from one of the pendant strands...add smooth roundels and 6mm rounds. Very pretty! Just thought it was great to be able to get so much from one strand!"
Approximately 13x26mm in diameter
approx. 20 beads per strand
Drilled horizontally
Matching spacer beads included
Add a clasp and it's ready to go
or separate it to use in any custom design!
$20.00 per strand
Available in a variety of stones
Click on the pictures to see a closeup
Cherry Quartz Glass
Honey Jade
Green Aventurine
Amazonite
 
More shapes in Cherry Quartz Glass
Silver Leaf
Hickorite
Fancy Jasper
Brown Agate
Brown Tiger Eye
Olive Jade
Poppy Jasper
Black Onyx
Last Updated on Tuesday, 13 January 2009 17:36
---
Trash City
P.O. Box 13653, Scottsdale,
AZ 85267, USA
Tel: 602-399-9500
Toll Free Fax:  866-234-5324
E-mail: info@trashcity.com
Copyright © 2009 Trash City. All Rights Reserved.