Tuesday, 04 November 2008 05:42
Star beads in most of your favorite gemstones.
Sold by the 16-in strand.
Available in many gemstones.
4mm Stars
$8.00 per strand (100 beads)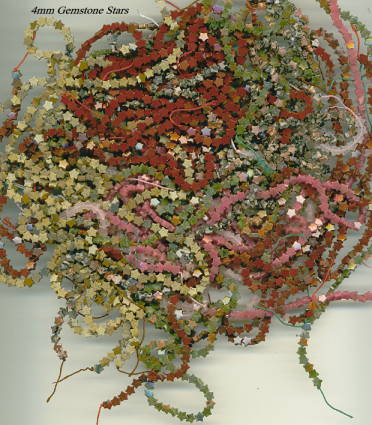 Available in:
Leopardskin Jasper
Rhodonite
Picture Jasper
Unakite
Red Jasper
Rose Quartz
Poppy Jasper
Brown Tiger Eye
Fancy Jasper
Fluorite
Moss Agate
Serpentine
Silverleaf
Snowflake Obsidian
Tiger Iron
White Howlite
Zebra
6mm Stars
$10.00 per strand (60 beads)



Available in:
Last Updated on Thursday, 18 December 2008 21:45
---
Trash City
P.O. Box 13653, Scottsdale,
AZ 85267, USA
Tel: 602-399-9500
Toll Free Fax:  866-234-5324
E-mail: info@trashcity.com
Copyright © 2009 Trash City. All Rights Reserved.