Saturday, 29 November 2008 17:05
Sterling Silver Gem Encrusted Pendants
Gorgeous handmade pendants in sterling silver, with genuine, high-quality stones embedded throughout. Includes heavy bails to dangle from any chain, or to add to any custom design piece as earrings or charms or accent pieces.
Sold by the piece.
Choose by row and number
ROW A = $25.00 each
ROW B = $30.00 each
ROW C = $50.00 each
ROW D = $40.00 each
Click on the picture to see a close-up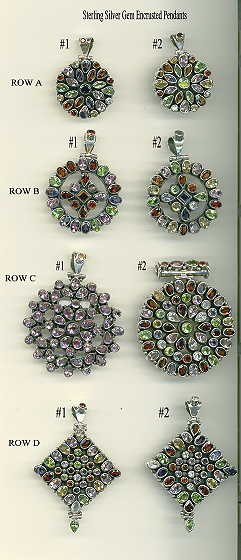 Sterling Silver and Turquoise Pendants
CHINESE TURQUOISE PENDANTS
We got these from a collector's estate, who kept them under lock and key for many years. These are excellent for any project as gorgeous centerpieces and are all natural, no enhancements whatsoever. Assorted shapes and sizes, sold by the PIECE We've measured only the turquoise in the pendants so the bail and ring and setting stick out a little more than the size of the turquoise. PLEASE NOTE: Each of these is ONE OF A KIND and we will try to keep this page updated as we sell the pendants off. It may also be wise to note any substitutes you will want (in the "comments" section of the shopping cart) in case the one you ordered has already been sold. Priced as marked.
Small Ovals
#T1
#T2
#T3
#T4
15x20mm
SOLD
18x23mm
SOLD
15x20mm
SOLD
21x25mm
$30.00
Large Ovals
#T5
#T6
#T7
#T8
24x32mm
SOLD
30x35mm
SOLD
20mm
$30.00
18mm
SOLD
Rectangle Shapes
#T13
#T14
#T15
#T16
18x25mm
SOLD
18x25mm
SOLD
22mm
SOLD
20mm
$25.00
Miscellaneous Shapes
#T21
#T22
#T23
#T24
22mm Triangle
SOLD
25x30mm Diamond
$25.00
25mm Oval
$25.00
20mm Oval
$20.00
Free Form Shapes
#T25
#T26
#T27
#T28
20x28mm
SOLD
20x32mm
$35.00
22x30mm
$35.00
25x28mm
$35.00
Last Updated on Saturday, 29 November 2008 21:39
---
Trash City
P.O. Box 13653, Scottsdale,
AZ 85267, USA
Tel: 602-399-9500
Toll Free Fax:  866-234-5324
E-mail: info@trashcity.com
Copyright © 2009 Trash City. All Rights Reserved.