Sterling Silver Cuff Bracelets
Saturday, 29 November 2008 00:30
Bead Bracelets
Sterling Silver "Cuff" Bracelets
Someone told us these were called 'cuff' bracelets, although we would be more inclined to call them "Beading Bracelets". As you can see from the image, the bead at the end of the bracelet unscrews to allow you to add on or change beads on the bracelet. These are all Sterling Silver and are great for adding any combination of beads or even dangling them as interchangeable charms. The bead on the end is about 6-7mm, to give you an idea of the size, and the main part is about 2mm across. This is an adjustable cuff, so should fit most wrists.
Sterling Silver Beading Bracelets
$9.95 each
To view a larger version of this photo,
click on the photo.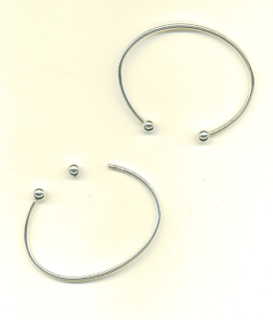 Suggested beads to use on these:
Cat's Eye Fireballs
Czech Glass Pony beads
6mm and 8mm Extra Large Hole Sterling Silver
Rhinestone Rounds in Sterling Silver
Last Updated on Saturday, 29 November 2008 17:13
---
Trash City
P.O. Box 13653, Scottsdale,
AZ 85267, USA
Tel: 602-399-9500
Toll Free Fax:  866-234-5324
E-mail: info@trashcity.com
Copyright © 2009 Trash City. All Rights Reserved.