Charms: Awareness Ribbons
Tuesday, 03 June 2008 21:42
Please also see our other charm pages
Please also see our silver charms

Photo shows front and back view
Enameled and Colorful, these spectacular charms measure 9x19mm
(Total of 30mm if you include the Large Hole {5mm hole size} Bead Ring)
and will fit on any charm bracelet including the European and Pandoras
$2.00 each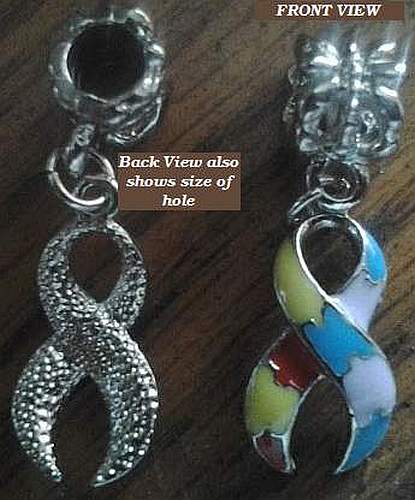 Autism Awareness - Puzzle Enamel on front
#3416
Heart Shaped Awareness Ribbon
Available in antique gold or antique pewter
60 cents
#1801
Unpainted Awareness Ribbon
Available in antique gold or antique pewter
75 cents
#1801 Hand Painted Awareness Ribbon
$1.40 each
Available in antique gold and antique pewter
Colors as shown below
Pink
Purple
Green
Red
Yellow
Teal
Red/Yellow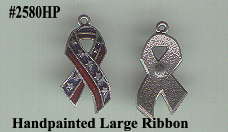 #2580HP Large Ribbon Hand Painted
(shown front and back) - $1.50
#3165
Yellow Ribbon
18mm - $1.40
#3160
Tree/Ribbon
14x25mm - $1.25

Awareness Ribbon
12mm - $1.75
See also Yellow Ribbon Beads and Camouflage Fimo Tubes
Color
Illness
Cause

Green

Childhood Depression,
Leukemia,
Mitochondrial Disease,
Primary Biliary Cirrhosis
Traumatic Brain Injury
Environmental Issues,
Missing Children,
Organ/Tissue Donor,
Safe Driving
Pink
Breast Cancer
Birth Parents

Purple

Alzheimer's Disease,
General Cancer,
Lupus,
Pancreatic Cancer,
Cystic Fibrosis

Domestic Violence

Red
AIDS/HIV,
Epidermolysis Bullosa,
Diabetes
Heart Awareness for Women
DUI Awareness,
Substance Abuse
Silver/Gray
Brain Cancer,
Diabetes,
Allergies + Asthma
Yellow
Endometriosis,
Spina Bifida,
Teen Suicide
Adoptive Parents,
Come Home,
Military Support,
POW/MIA

Teal

Ovarian Cancer

Sexual Assault
Complete Awareness Ribbon Color Chart
Special Order Colors Now Available!
We're pleased to announce that we can now take special orders for colors not shown above, with a minimum quantity of only 50 pieces. [per finish, antique gold or antique pewter] The price will be the same ($1.40) - if you are interested, please contact us for details of delivery times, etc.
Please also see our other charm pages
Last Updated on Saturday, 04 May 2013 04:42
---
Trash City
P.O. Box 13653, Scottsdale,
AZ 85267, USA
Tel: 602-399-9500
Toll Free Fax:  866-234-5324
E-mail: info@trashcity.com
Copyright © 2009 Trash City. All Rights Reserved.