Thursday, 27 November 2008 15:40
Fimo Mushroom Charms
EACH IS UNIQUE. No two alike! $2.50 each
25mm Tall with ring at the top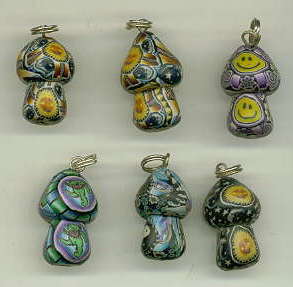 Hand-blown Glass Mushrooms
$2.50 each
Approx 1" long, made of hand-blown glass.
Also NOW available in EXTRA LARGE!! Almost 3" tall and gorgeous!
Extra Large is available in Cobalt Blue, Yellow, Blue/Green and Dark Green = $4.00 each
Available in:
EXTRA LARGE
Regular

Colors available: Mint Green, Orange,Aqua Blue,Red and Dark Blue
Hand-blown Glass Mushrooms with FIMO CAPS!
$3.00 each
Approx 1" long, made of hand-blown glass with Fimo Caps.
Assorted styles. When you purchase, it's our choice.
Available in:
Glass Bottom
Fimo Top
Ceramic Mini Mushroom Beads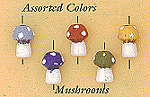 5x10mm Drilled through
Red, Green, Blue Aqua & Yellow
60 cents each
Czech Glass 7x12mm Glass Mushroom Beads!
Rare! Gorgeous!
Sold by the piece in assorted colors!
drilled through (.040" hole) Top to Bottom
$2.00 per bead
COLORS: Red, Black, Green, Brown
Purple(OUT OF STOCK), Blue (OUT OF STOCK)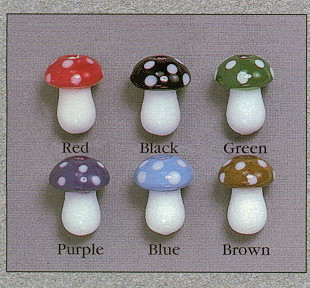 Last Updated on Thursday, 03 March 2011 01:50
---
Trash City
P.O. Box 13653, Scottsdale,
AZ 85267, USA
Tel: 602-399-9500
Toll Free Fax:  866-234-5324
E-mail: info@trashcity.com
Copyright © 2009 Trash City. All Rights Reserved.