Sunday, 30 November 2008 03:46
March 17
It's a Great Day for the Irish!



Show them your colors with these adorable beads and charms!
#1054 Celtic Cross charms
$1.10 each
Approx 2" long, made of Pewter
Available in Antique Pewter or Antique Gold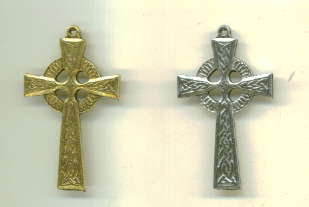 See also our other cross charms
Sterling Silver Green Beer Mug!
All Sterling Silver with Swarovski Crystal "beer"
$7.50 each



More Sterling Silver Cocktail Charms
Czech Glass Shamrock Beads
8x10mm Drilled Through (top to bottom)
Available in three colors
Black with Silver Shamrock, Black with Gold Shamrock and Red with Gold Shamrock
15 cents each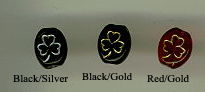 More Czech Glass Beads
Lucite Shamrock Beads


Not really.. We took three 12mm Givre Lucite Heart beads and put them together,
quite by accident, but look what we got!
You can do it with the 6mm and 28mm too!
These hearts are available in lots of other sizes and colors
We've only shown the green here and you can see much more on their own page.
More lucite hearts
Pewter Lucky Charms
Great for charm bracelets or any other custom design!

#309 Pewter Charm Leprechaun Shoe
#1860 Pewter Charm Horseshoe with Shamrock
50 cents each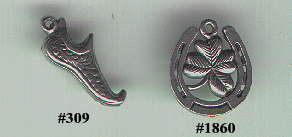 More pewter charms
12mm Sterling Silver Shamrock
Hang as a pendant or make a pair into lucky earrings.
$4.50 each


3/4" Irish Flag Fimo Tubes
Ireland Flag Fimo Tubes 3/4" Long
Accent your designs with these tubes
Use as spacers or dangles for earrings
40 cents each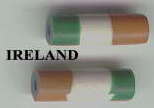 More flag tubes
"Made with Love" or "Just For You"
Use this pewter tag to show them how and why your pieces were made.
35 cents each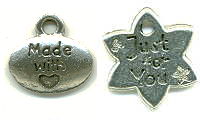 Last Updated on Thursday, 08 January 2009 02:03
---
Trash City
P.O. Box 13653, Scottsdale,
AZ 85267, USA
Tel: 602-399-9500
Toll Free Fax:  866-234-5324
E-mail: info@trashcity.com
Copyright © 2009 Trash City. All Rights Reserved.