Thursday, 27 November 2008 17:08
Please also see our pearlized glass.
BIG PEARLS ARE HOT!!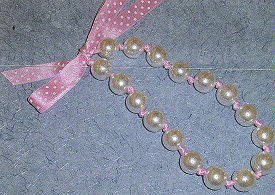 Big Pearls with Big Holes from Japan!
THESE ARE FAUX PEARLS - ACRYLIC - NOT GLASS
Sold by the strand
Pearls with large holes (approximately 3 1/2 - 4mm)
suitable for stringing with ribbon, cord, etc...
Two Styles and FOUR COLORS
16mm in FOUR COLORS
White Lustre, Cultura Creme,Gun Metal and Light Pink
30" strand: $30.00

ALSO AVAILABLE WITH A SMALL HOLE
in limited quantities and colors (White and Creme only)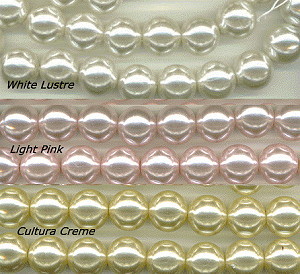 20mm in FOUR COLORS - ***NOW LEAD FREE!!***
White Lustre, Cultura Creme,Gun Metal and Light Pink
15" strand: $45.00
NOTE: Currently we are OUT OF STOCK in all 20mm colors bar Gun Metal.
We'll update this page when we get more in!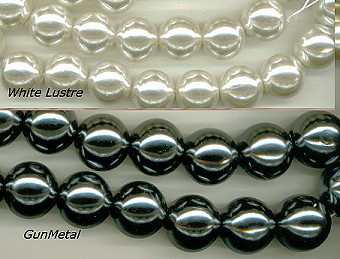 Colored Metallic Mesh
Perfect for use with these pearls
Sold in packs of 5 Meters (approx. 15 feet)
Many colors available
$30.00 per hank (5 Meters = 15 feet)
Unbelievable versatility and uses
String through large holes, or open the mesh to insert large pearls or gemstones
Click on the pictures to see the colors in better detail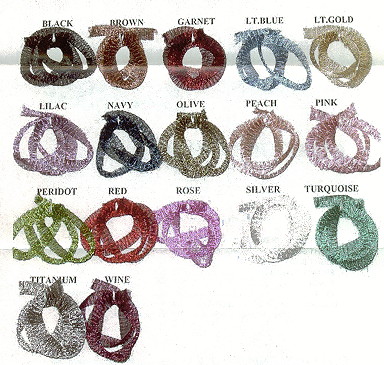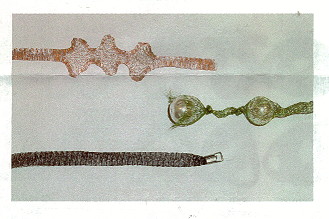 Last Updated on Monday, 26 April 2010 15:59
---
Trash City
P.O. Box 13653, Scottsdale,
AZ 85267, USA
Tel: 602-399-9500
Toll Free Fax:  866-234-5324
E-mail: info@trashcity.com
Copyright © 2009 Trash City. All Rights Reserved.