Tuesday, 27 May 2008 01:05
Beads in Diamondback Colors!!!
We Love Our Diamondbacks!
And some of our designers love them too! We've had these beads dyed to match the colors of the Arizona Diamondbacks Baseball team. Make your favorite jewelry and show your spirit with the true colors of YOUR Arizona Diamondbacks! They're made of limestone, which, because it's so porous, takes color beautifully.
8mm Round $6.00 per strand
(16 inch strand - 50 beads per strand)
Sedona Red, Sonoran Sand and Black.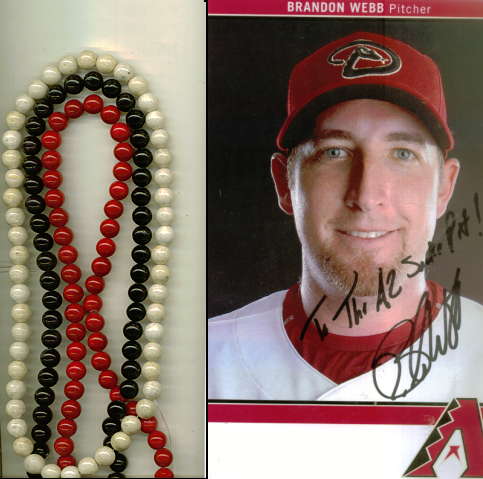 SPECIAL EDITION!!
BASEBALL THEME LANYARDS
In your Team Colors
With Peruvian Ceramic Baseball Accents
Sterling Silver beads spacers
Pewter Baseball theme charms hang from it.
Badge Holder at the end may be customizable
(Round/Clip/S-Clasp) your choice
$65.00 each plus shipping
Click on picture to see a close-up

DISCLAIMER
Please Note: Our beads are in no way endorsed by the Arizona Diamondbacks
or anyone in Major League Baseball.
We, however, heartily endorse the Diamondbacks! :-)
Jim runs a fan site devoted to the Diamondbacks, called the AZ Snake Pit.
Take some time to visit his site and say hello if you're a fan!
Last Updated on Monday, 08 December 2008 21:58
---
Trash City
P.O. Box 13653, Scottsdale,
AZ 85267, USA
Tel: 602-399-9500
Toll Free Fax:  866-234-5324
E-mail: info@trashcity.com
Copyright © 2009 Trash City. All Rights Reserved.