Monday, 01 December 2008 02:45
We always love to see what people do with our beads, so if you have some pieces you'd like to see here, This e-mail address is being protected from spambots. You need JavaScript enabled to view it . We'll happily display them, together with your contact details if you like, as an inspiration to others.
Click on most pictures for a closer look!

One of our clients, Amy Rose, makes the most gorgeous Wolf Design Earrings using
Sterling Silver, Crystals and our Wolf Fetish beads. 
She donates 50% of her sales to the Wolf Conservation Center in New York State.
http://nywolf.org/support-us/donate/151-donation
Here's a photo of her beautiful designs.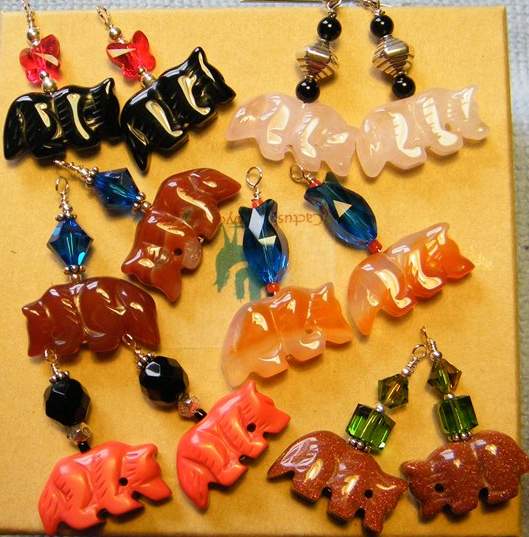 | | |
| --- | --- |
| | O Canada... Pierrette up in our northern neighbour took our sterling beads and daisies, amethysts, aquamarines, chalcedony, akoyas and our "awesome" blue calcite smooth drops and made this phenomenal set of "seafoam jewels": necklace, bracelets and ear-rings. Check out her website too! |
| | |
| | In Indiana, Debra of Jewelry from Heaven made this lovely necklace, featuring our hand carved shell "Fairy" and some very rare Red African Opal rectangle beads. |
| | In Virginia, Cindy and Andrea are making cancer awareness bracelets - and they're proving a big hit! They use a range of our colored cats-eyes (each color represents a different form of cancer), 4mm large hole sterling beads and plain awareness ribbons, and the proceeds all go to the Rusty Coffman Memorial Foundation, benefiting the Cancer Treatment Research Foundation. |
| | This e-mail address is being protected from spambots. You need JavaScript enabled to view it writes: "I saw your gallery and thought I would send you a picture of the Rosaries I make using your sterling silver alphabet beads, Swarovski crystal beads, etc." |
| | Here's the first of two pieces from local customer, Leslie Lintner, who helps keep the post office busy between here and Tucson! Bali spacers and tubes, corrugated beads, letter blocks and a heart toggle - all from us, naturally! - went into this name bracelet. She calls it 'Silver Hodgepodge' - we call it very cute. :-) Leslie's got a new site, The Beaded Name, so go check it out. |
| | And Leslie also created this beautiful matching set of necklace and pair of ear-rings, with our garnets, gold-filled beads, chain, findings and wire from Trash City. Leslie runs Southwest Jewelry Designs too, where you can find lots more of her great designs. |
| | Tobi Mattes used our silver tube beads and garnet to make this matching necklace and ear-rings set. For more examples of creations with our tube, check out Tobi's website. |
| | Becky Anders (email: This e-mail address is being protected from spambots. You need JavaScript enabled to view it ) used our rare astorite as the highlight in this lovely bracelet. Visit her website, www.braceletshoppe.com [site appears down at the moment], for more samples of her work. |
| | Chris herself made this three-strand name bracelet for a relative, using round-edge letter blocks, Swarovski pastel chain, pink and blue crystals, and a fancy Bali clasp. |
| | Joy Mott used one of our tiger brown lip pendants as the centrepiece of this elegant necklage, which also features pearls and gold-filled beads from Trash City. Visit her site for more examples of work by Joy using our treasures! |
| | Leslie Lintner is a local customer, based right here in AZ. She used Bali cones, caps, silver findings, rhodonite, rose quartz and green aventurine, pearls and Swarovski crystals - plus much more - in this amazing piece of work, with roughly 32 beads/inch! Almost entirely bought from TC, too. :-) Visit her site, Southwest Jewelry Designs. |
| | Becky Anders takes our spacers, letter blocks and gold and silver beads, and makes them into name bracelets, such as the beautiful example shown at left. Visit www.braceletshoppe.com [site appears down at the moment] for more samples, or email her at This e-mail address is being protected from spambots. You need JavaScript enabled to view it |
| | This new bracelet from Laura Ozog of Laughing Fish Designs used Turquoise, Garnets, Bali Spacers and our Sterling Silver Beads - definitely worth a closer look, so click on the picture. She now has a website where you can see more of her work. |
| | October is National Breast Cancer Awareness Month, making this bracelet by Carrie Rippa a very timely item. She uses round cats-eye and letter blocks. For more information, check out her website, and also see our breast cancer awareness ribbon. |
| | Laura Ozog of Laughing Fish Designs specializes in Mothers' and Name Bracelets. Based in Londonderry, New Hampshire, here's one of her striking 2-strand bracelets, made using freshwater pearls and fluorite. Her email address is: This e-mail address is being protected from spambots. You need JavaScript enabled to view it |
| | Amber Rankin incorporated faceted cats-eye and gold-filled beads into this stunning set - click on the picture to get the full effect. It's for sale through her website |
| | The ever-busy Mickey Walter ( This e-mail address is being protected from spambots. You need JavaScript enabled to view it ) used our jade as the central feature on these elegant bracelets. |
| | Mickey also made this colorful USA bracelet, from our spacers, alphabet blocks and Czech fire-polished rounds. |
| | Melissa Bishop, of the charmingly-named This e-mail address is being protected from spambots. You need JavaScript enabled to view it (Tel: 407 677-7073), used two sizes of our alphabet blocks, with Swarovski crystals for accent, to make these attractive name bracelets. Also, check out her website! |
| | Donna Stanley ( This e-mail address is being protected from spambots. You need JavaScript enabled to view it ) took cats-eye beads and our NYC skyline charm, and used them in this lovely patriotic bracelet. |
| | Two gorgeous bracelets made by Kim Storm ( This e-mail address is being protected from spambots. You need JavaScript enabled to view it ) of Kim's Kreation, with our alphabet blocks. |
| | Lauri Blaauboer ( This e-mail address is being protected from spambots. You need JavaScript enabled to view it , or see her Ebay auctions under userid huminuh) used serpentine, amber and yellow jade to create this elegant necklace. |
| | Mickey Walter ( This e-mail address is being protected from spambots. You need JavaScript enabled to view it ) makes these beautiful bracelets using our spacers and print beads. |
Last Updated on Friday, 01 May 2015 17:07
---
Trash City
P.O. Box 13653, Scottsdale,
AZ 85267, USA
Tel: 602-399-9500
Toll Free Fax:  866-234-5324
E-mail: info@trashcity.com
Copyright © 2009 Trash City. All Rights Reserved.