Wednesday, 21 May 2008 22:42
Special Pricing for Assorted Styles Fimo Tubes
(special pricing is for these styles ONLY and do not apply to our regular stock!
We have just received these amazing styles from a special close-out deal and are passing the savings onto you!!
All Fimo from this special order are pre-bagged in assorted colors and designs in 1 size. 100 Beads per bag.
Some of the savings are as much as 70% off our regular prices!!

Small Tubes (6x7mm and 5x10mm)  100 beads per bag assorted:  $15.00 per bag (15 cents each!!)

Regular Tubes ((6x12mm, 8x15mm and 5x20mm) 100 beads per bag assorted:  $25.00 per bag (25 cents each!!)

20mm Puffy Discs 100 beads per bag assorted = $30.00 per bag  (30 cents each!!)

Click on the photos to see a closeup of these very SPECIAL OFFERS!!
Antelope 7x9mm - Bag of 100 pieces = $20.00 per bag (20 cents each!!)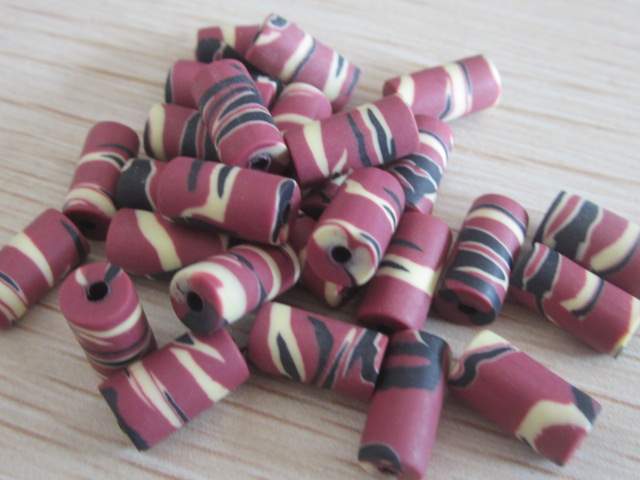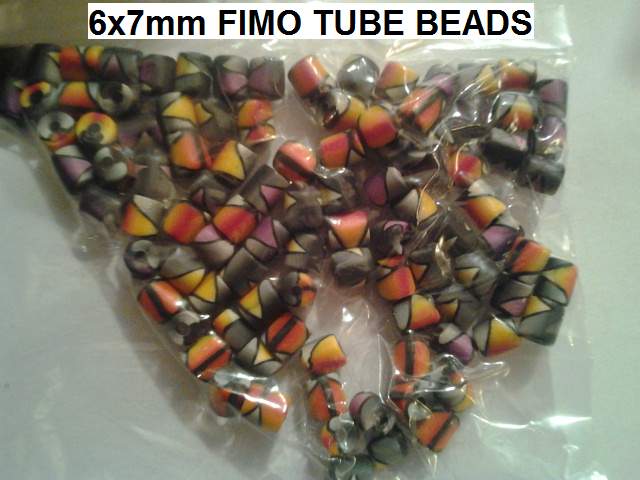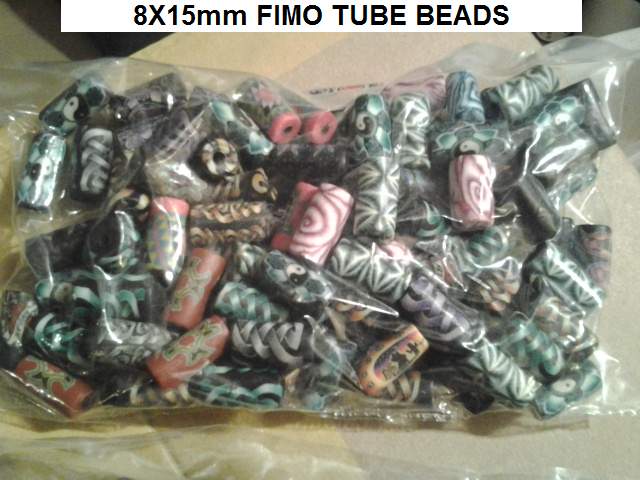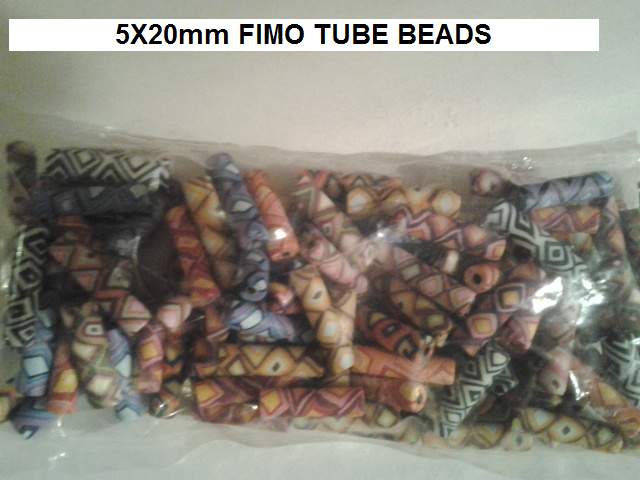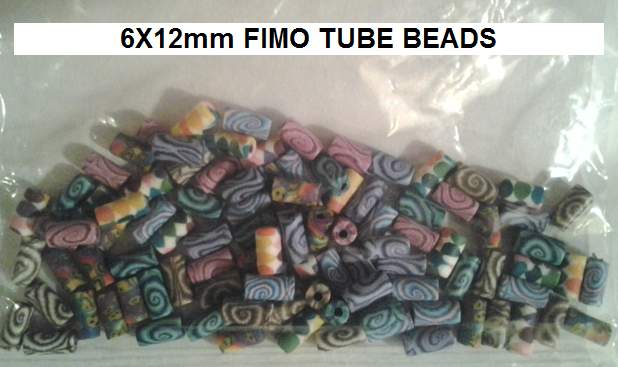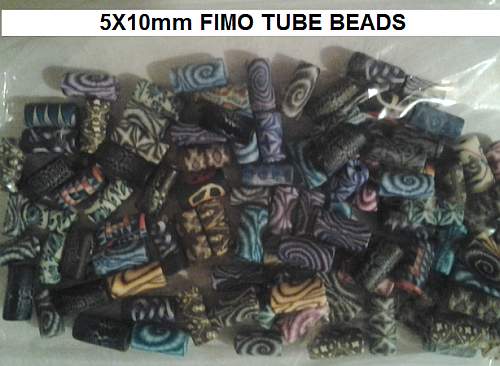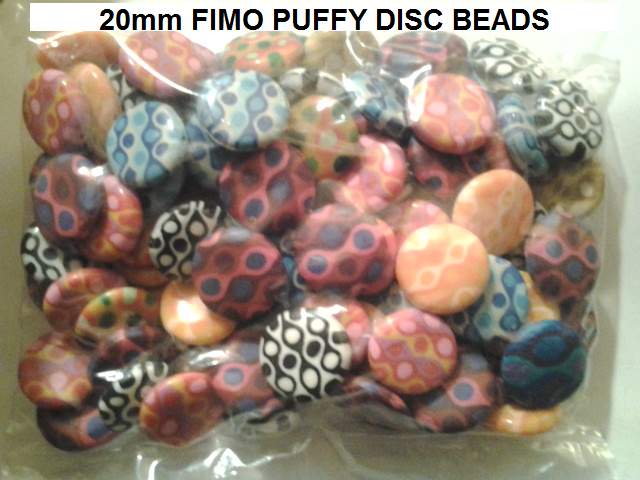 Regular stock:  Fimo Tubes and Discs
Tubes are available in two sizes and various prints and colors as follows:
small 1/2" = $20.00 per 100 (35 cents each)
large 3/4" = $40.00 per 100 (60 cents each)
12mm Disc = 75 cents each
20mm Disc = $1.00 each
Those available as discs will be noted.

Chunky Rounds 12mm = 75 cents each PICTURED: PEACE SIGN
Also available in some Flags  - CANADA, CONFEDERATE, STARS AND STRIPES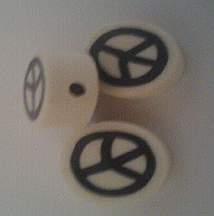 Skulls
Round Discs 20mm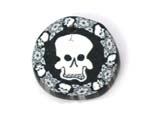 Available in 7x18mm (3/4" Tubes )
1/2" is DISCONTINUED
Special Price on this item:  $25.00 per 100
or 40 cents each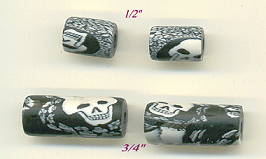 See here for click more Halloween

Pot Leaf
Round Discs 20mm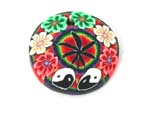 Available in 1/2" Tubes
3/4" - HAS BEEN DISCONTINUED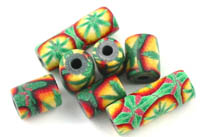 Military Camouflage Fimo Tube Beads
Available in 7x18mm and 7x9mm
$20.00 per 100 pieces (7x9mm)    and   $40.00 per 100 pieces (7x18mm)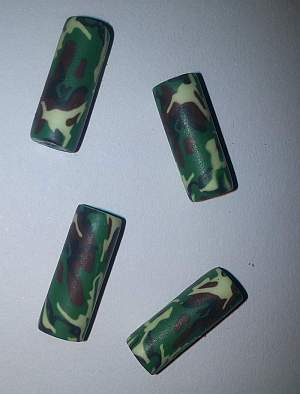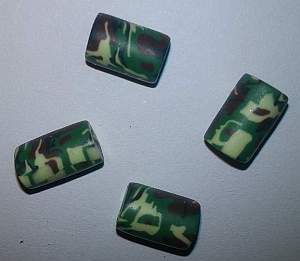 Pink Flamingoes
Available in 1/2" and 3/4" Tubes



Dolphins, and Sun Faces
Available in 1/2" and 3/4" Tubes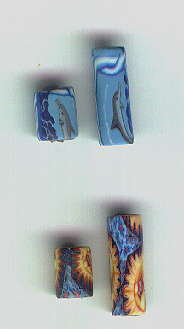 Patriotic Prints
Available in 3/4" Tubes *only*
Stars/Stripes or American Flag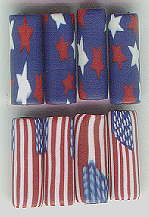 See here for more flags
Animal and Tie-Dye Fimo Tubes
Animal Prints
* = available in 1/2 inch only.
+ = available in 3/4 inch only.
Tie-Dye Prints

White Cow
Dark Cow
Jaguar

Giraffe
Antelope
Dark Giraffe

White Zebra
Zebra/Giraffe
Leopard

Purple Zebra*
Green Zebra
Red Zebra +


Sunflower


Denim/Flower


Orange


Red


Purple


Green


Blue


Yellow


Mickey Walter ( This e-mail address is being protected from spambots. You need JavaScript enabled to view it ) makes these beautiful bracelets using
our spacers and print beads. Click on the picture for a closer look.
SPECIAL SALE:
Antelope Fimo Tubes:  7x9mm - Bag of 100 pieces = $20.00 per bag (20 cents each!!)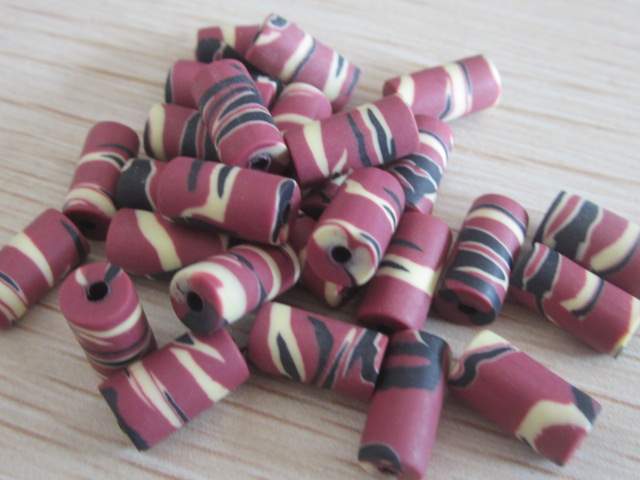 What is Fimo?
Patterns or pictures are made by stacking different colors and different shapes of polymer clay (FIMO) in thin strips about 3 feet long one on top of ther other until a tube at least 6 inches thick is formed. This "tube" is called a cane. The artist who lays up this cane has to be very precise and see that the different colors run perfectly from one end to the other, otherwise the picture will not be the same at various points on the cane. This all means that you should be able to slick through the cane anywhere its length and it will be exactly the same as it appears on each end.
Once the cane is completed, it is carefully rolled down by hand on a flat surface until it is about 3-4 inches thick. This rolling down also makes the cane very much longer, probably about 6 feet at this stage. This process has to be done very carefully so as not to distort the image, because if this happens, the completed cane cannot be used, nothing can be retrieved and it cannot be repaired. A cane has a shelf life of about a year and sections can be cut off to insert into other canes being built, which is why images will appear on tubes or discs or blocks.
The cane can be rolled down to as little as 5mm and still retain the full original picture. To make the tube beads, thin slices of the cane are wrapped around waste clay, which in turn is wrapped around wire rods, then cut to length and baked in a regular oven. All FIMO has to be finally baked as it will otherwise remain soft.
If you break one of these discs in half, you will see the picture running right through from one side to the other and perhaps understand more fully how FIMO beads and discs are created. They are not easy to make.
Now you know as much as we do. Never let it be said that Trash City is not an educational place to shop! :-)
Last Updated on Wednesday, 15 June 2016 16:51
---
Trash City
P.O. Box 13653, Scottsdale,
AZ 85267, USA
Tel: 602-399-9500
Toll Free Fax:  866-234-5324
E-mail: info@trashcity.com
Copyright © 2009 Trash City. All Rights Reserved.